Auto Repair Shop in Asheville, NC
Custom Exhaust & Brakes, Inc. offers friendly, reliable and affordable auto repairs to Asheville and the surrounding areas. For over a decade, our ASE-certified team has provided a wide range of services, from exhaust and muffler repair to brake work.
Our Services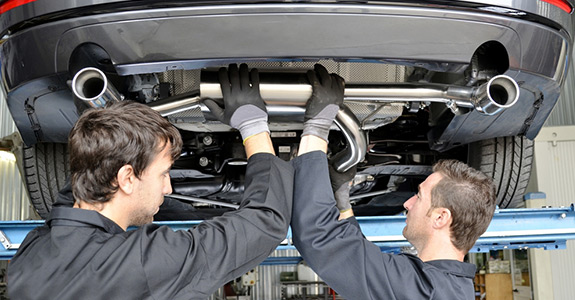 ASE-Certified Mechanics
It doesn't matter whether you own a brand new vehicle or are trying to squeeze a few thousand more miles out of an old clunker—when you're a driver, you need auto mechanics you can always count on for auto repair in Asheville, NC, whatever you need, and whenever you need it. Since 2004, countless area residents have turned to Custom Exhaust & Brakes, Inc. for the car care they need. Thanks to our combination of highly-skilled, ASE-certified technicians, wide range of services and affordable prices, we've built a strong reputation as a friendly, high-quality auto repair shop, and we look to keep building on that reputation for years to come.
Custom Exhaust & Brakes, Inc. specializes in a wide variety of automotive services, ranging from general repairs, oil changes and tune-ups to brake service, computer diagnostics and check engine light service. We are members of the Automotive Service Association and the Better Business Bureau, from whom we've received an A+ rating, meaning that we're a team you can always trust for quality car repair, no matter how large or how small the job may be. Here are just a few of the reasons you should contact us today:
We provide high-quality automotive repair services.
We are a proud local business serving residents of Asheville, NC and the surrounding areas.
We have ASE-certified auto mechanics on our team, as well as an A+ rating from the BBB.
Our offered services range from the very simple to the very complex.
We offer dependable and friendly service for competitive prices.
We offer the best in auto repair services and towing in:
Asheville, NC
Biltmore Forest, NC
Woodfin, NC
Morganton, NC